Sense of Self: Four Female Photographers
The Southeast Museum of Photography, in collaboration with the Mid-Atlantic Arts Association presents a photography exhibition investigating the notion of the evolving self through the lens of four photographers. Each photographer has contributed a series of photographs whose creation was based on a prominent moment or conglomeration of moments/memories/circumstances that has affected their sense of self. These photographs are an active investigation into the circumstances that point to whom they have become, in relation to who they once were, or are supposed to be.
The exhibition utilizes photography as a static marker. Even while composed to represent a thought or fantasy the photographic image is still indicative of a temporal moment occurring and then ending. In the work of these artists the photographs provide a departure point to illustrate the transitory nature of identity and to begin the investigation into self.
For booking information visit Exhibits USA
All contributing artists identify as female; as such the themes developed by the exhibition rely on a contemporary notion of femininity, and how that notion is challenged, reinforced, accepted or rejected by the participating artists. The threads created by each individual artist, though, are broad enough that the themes are accessible by all visitors to the gallery space—such threads include domesticity, culture, the family unit, and maturing into adulthood
Brooke Didonato
DiDonato explores the moment when a maturing adult returns to their childhood home to find that they have outgrown their previous role in the family unit, but can't quite place where they belong now.
Bastienne Schmidt
Schmidt creates images based on both the reality and the imagination of the role of 'mother' in a domestic situation.
Priya kambli
In a recursive fashion, Kambli investigates the notion of culture and familiar attachment through reworking the only attachment she has to her extended family; the photographs she inherited.
Frances F. Denny
Denny questions the roles that the matriarchs of her family have performed through multiple generations, and creates comparisons between the heirlooms passed down through her family with those gender-assigned responsibilities and expectations.
A House is Not a Home
Brooke DiDonato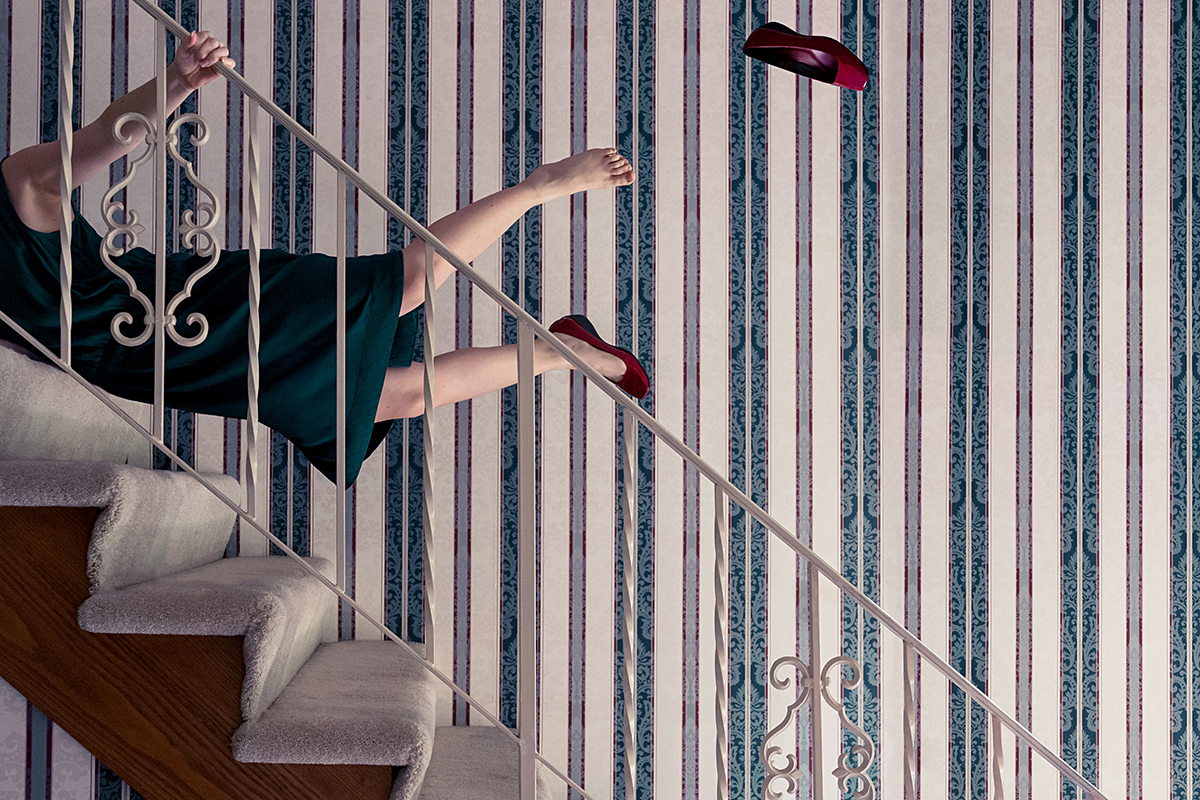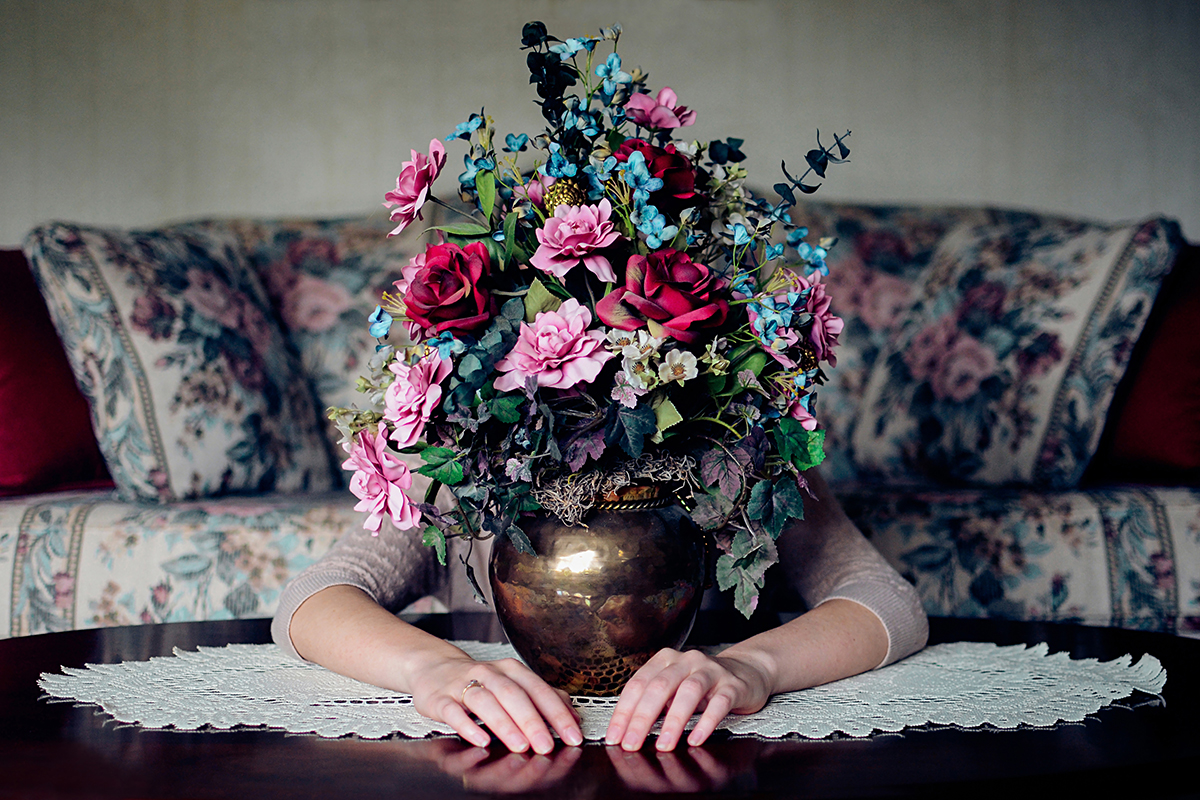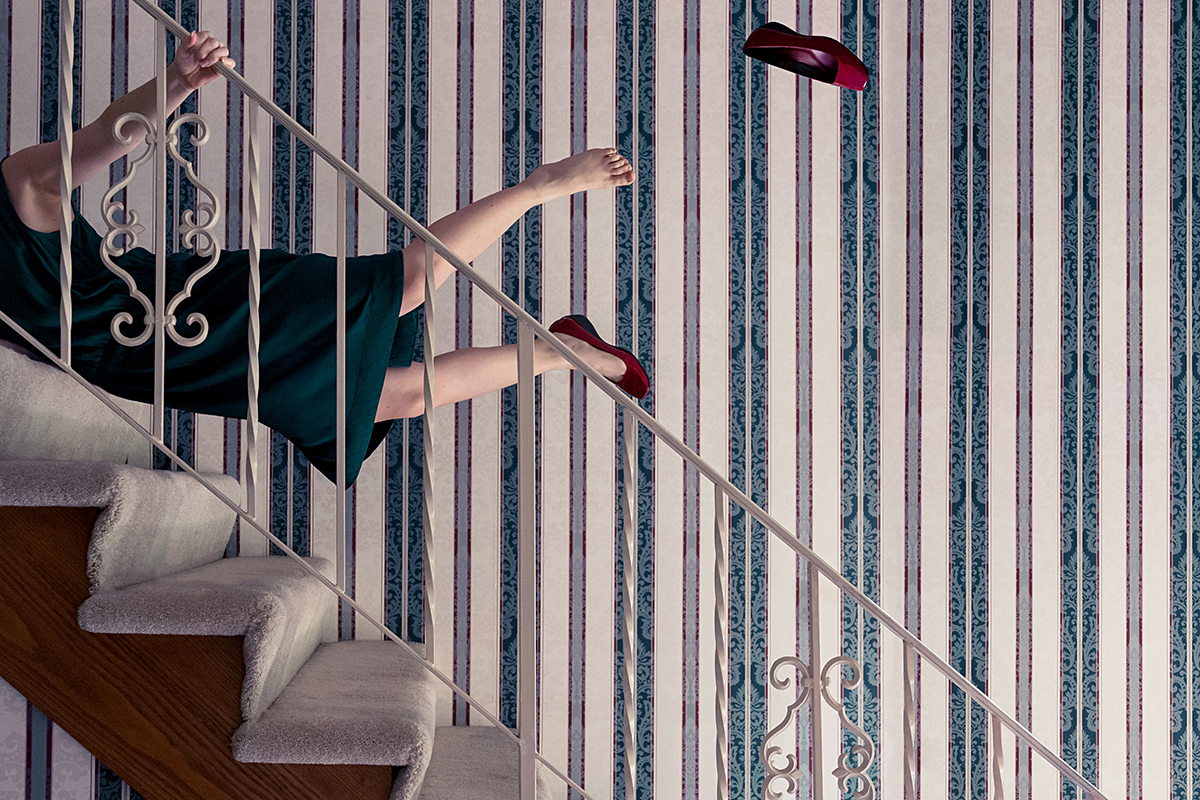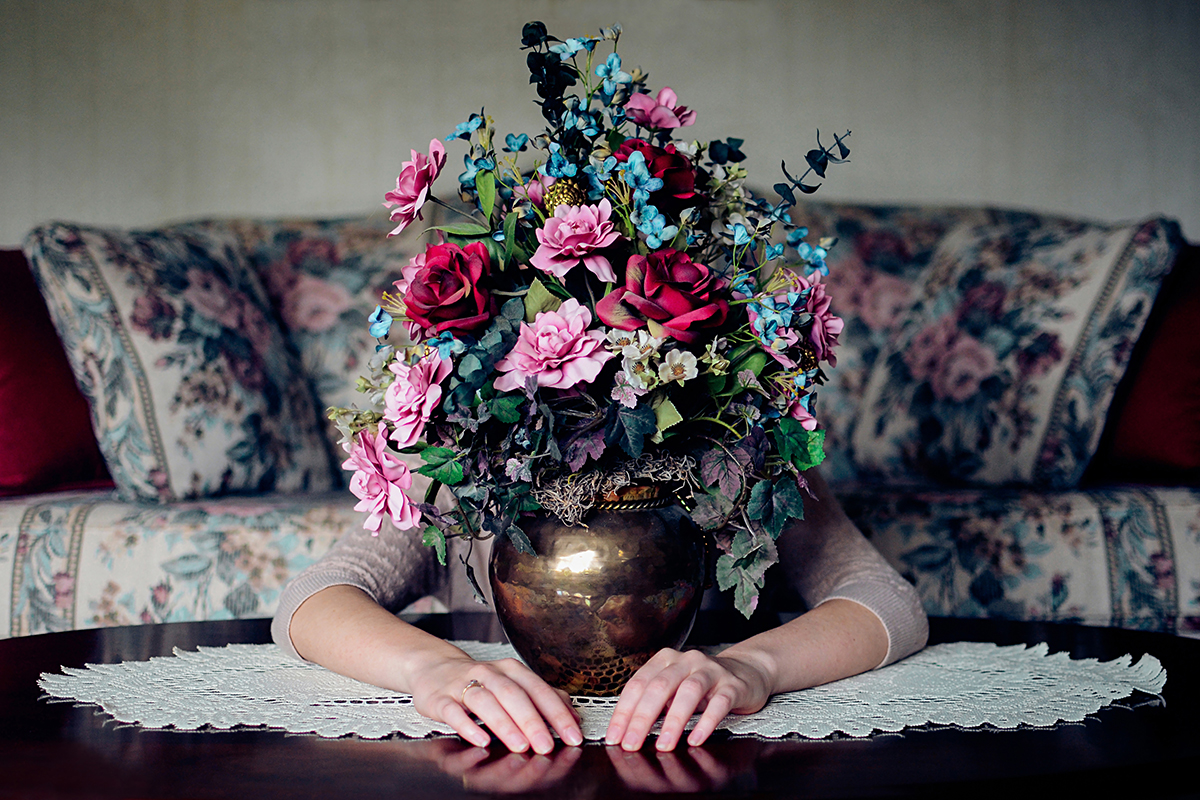 (From DiDonato's artist statement) "A House is Not a Home" is a series of self-portraits conveying feelings of isolation and discontent experienced when returning to my hometown in Ohio. The character in this series acts as a hyper-feminine version of myself, exploring an alternate reality where I coexist with a suburban backdrop, yet struggle to psychologically acclimate to gender roles often found in a nuclear family structure. By obstructing my face, I seek to create a character who encapsulates a broad definition of "female hysteria," a medical diagnosis that was historically used for women who struggled to cope with societal ideals.
Let Virtue Be Your Guide
Frances F. Denny
Let Virtue Be Your Guide examines the artist's family, and their deeply rooted history as early settlers of New England (one ancestor, John Howland, was s deckhand aboard The Mayflower). Unearthing the idea of feminine "virtue" from the confines of its historical meaning, the photographs of the women in her family have a watchful quality, as if the artist is defining for herself what it means to be a woman. Her sitters, and the domestic spaces they inhabit, together evoke a well-worn privilege. In the photographs, seams pull apart, exposing the shifts occurring across generations of women. The resulting collection of images becomes a search for meaning in heritage, a challenge to the notion of legacy, and the artist's reckoning with a traditional version of American femininity.
Link to "Let Virtue Be Your Guide" Book
Home Stills
Bastienne Schmidt
Schmidt's published series evokes a sense of self altered by the obligations of motherhood. (From Vicki Goldberg's introduction to the book): Bastienne Schmidt wanders, metaphorically or on foot, in and out of a woman's life and imagination—her own and by inference many others…It must have crossed the mind of many a mother, faced with caterwauls and runny noses, dust balls and yet another dinner to provide, that it might be a relief to step out of the picture. The housewife and mother's need to be alone…Several photographs of Schmidt, a.k.a. the woman, looking out of a window reprise a theme that was common in nineteenth century painting. The subject had a lot to do with the way women were regarded in the past, as domestic creatures that did not belong outside but may have longed for something beyond the hearth.
Color Falls Down
Priya Kambli
(From Kambli's artist statement): At age 18, a couple of years after the death of my parents, I moved from India to the United States with all my belongings in one suitcase. My photographs, which are rooted in my fascination with my parents, visually express the notion of transience and split cultural identity caused by the act of migration. In Color Falls Down these issues are seen through the lens of my own personal history and cultural identity. I re-contextualize and alter my family snapshots and personal artifacts to reveal the correlations between generations, cultures and memory.
Color Falls Down is a conversation with my ancestors and also an effort to reconcile the cultural dualities that have helped form my hybrid identity. This conversation began with the domestic objects and family photographs that I carried with me in my suitcase and which have been my companions ever since. My self-portrait is the constant that links my past with my present. In this work I am neither Indian nor American, but the link that chains generations together.