ABOUT THE EXHIBITION:
OPEN JANUARY 25 - FEBRUARY 25, 2018
The Art in Action: Veterans Exploring the Visual Arts exhibition is both a celebration of veterans and the arts. It is representative of how the arts can creatively engage, help communicate emotion, invite healing and personal growth, and bring the community together. Artworks include traditional photography and alternative processes, painting and mixed media, woodworking, collage, ceramics and a collaborative video installation.
ABOUT THE ARTS IN ACTION PROGRAM:
The Art in Action program was started in February 2017 in an effort to create an artistic outlet for veterans, and to bring their stories and artwork to a wider audience. Although their individual experiences are vast and varied, there is a common denominator–a sense of solidarity and camaraderie–that strengthens the bond between our group members. Together, they are connected by and through their service, but simultaneously isolated from the general public's understanding and consciousness. Our participants–some accomplished artists and others newly emerging–have drawn from the deep wells of their personal and collectives experiences to further inform/enrich the public narrative regarding military service, the effects of engagement and the subsequent pathways to healing and reintegration.
Over the last year, the Art in Action program hosted a series of ten workshops and five open-studio sessions designed to introduce participants to a broad spectrum of art materials and techniques. These sessions allowed veterans to meet and learn from professional artists, to discover and cultivate their own talents, and to transform their experiences through thoughtful and therapeutic forms of self-expression. Whether through painting, writing, photography, ceramics or woodcarving, our veterans have used their artistic abilities as a conduit to express their complex thoughts and emotions, and to support one another in a journey of personal growth.
The artwork produced by our veterans has great significance, and carries meaning well beyond any surface decoration or design. These works are symbols of hope, recovery and self-expression that I know will inspire all those who view them.
My sincere thanks to the instructors, volunteers and community sponsors who helped make this program possible!
OUR INSTRUCTORS:
Carly Gibran | John J. Graham | Christina Katsolis | Fang Ling Lee
Nancy McElroy | William Myers | Patrick Van Dusen | Robbin Wren
OUR PARTICIPANTS:
Angelus Archades | Dustin Arledge | Grady Babbs | Stephen Berdeguez | Liam Bowman | Kimberly Boyd | Brandi Bryant | Richard Bullard | Brad Carter | Anna Marie Cash | Tawan Harrell Chester | Gerry Corrigan | Kathy Crawford | Lewis DeWitt | Jennifer Egler | Michael Eliassen | Jeremy Glass | Randall Johnson | James Jones | John P. Joyce | Kallie Kmitch | Billy Knieriem | Alicia Lynn | George D. Marshall | Ernest Maymi | Cornelius McCloud | Craig Neubecker | Kimberly Neubecker | Jon Pinney | Gerardo Ramossanchez | John Riddick | Megan Rizzo | Greta Spradley | Betsy Stange | David Swoyer | Kristina Truluck | Thomas Wellington | Estrella Young |
HIGHLIGHTS FROM THE EXHIBITION:
– photographs taken by Richard Bullard while stationed in Afghanistan, Colombia & Iraq.
– Series of paintings, block prints and mixed media by Tawan Harrrell Chester.
– collage of handprints from 30 veteran participants, their families and/or volunteers.
– series of black and white photographs taken by george david marshall.
– art installation by members of the 82nd airborne division, greater daytona chapter.
Please stop by the museum to view these and many more works of art on display!
Artworks created through the Art in Action program will be on view Thursday, January 25 - February 22, 2018 in the downstairs gallery of the Southeast Museum of Photography, on the Daytona State College campus.
UNPACKED: PHOTOGRAPHS FROM A SOLDIER'S ARCHIVE
PAINTINGS, BLOCK PRINTS AND MIXED MEDIA BY TAWAN HARRELL CHESTER
©Tawan Harrell Chester, Trapped
ABOUT TAWAN HARRELL CHESTER
© Tawan Harrell Chester, A Sign
"I currently create protest art that focuses on active duty service persons, retirees, and their families. The compositions are renderings from interviews with other veterans, personal photographs, along with images from books, newspapers, and online sources. These are figurative depictions of situations addressing foreclosures, homelessness, and financial
positions. I use references and symbols that are familiar to my audience and incorporate them in my work to form an emotional connection and convey a message to the viewer.
I use previously issued military uniforms, military surplus materials, and handmade papers to create mixed media works and lithographic prints. The paintings consist of low-key earth toned brushstrokes that border on impressionism laid on the military materials. Mixed media and lithographic prints make up the renderings appearing on the handmade
paper. The paper is made from materials that are overlooked, discarded, or deemed useless distractions such scrap paper, used coffee grounds, weeds, or junk mail. These items provide a unique texture and quality that enhances each piece.The re-purposed military materials are significant because they attest to the metamorphic lifecycle of the serviceperson moves through. This lifecycle changes the individual from a civilian to a warrior and back to civilian."
photograms - EXPLORING TRADITIONAL & EXPERIMENTAL techniques
Images from top to bottom, left to right: Craig Neubecker, America's Aviation Army; Billy Knieriem, Compass and Tags and Grenades and Tags; Liam Bowman, The Pillaging of Norseman at Night; Jennifer Egler, Fabulous and Nettle; Greta Spradley, Skeleton Keys and Flowers.
VIETNAM VOYAGE - PHOTOGRAPHS BY GEORGE D. MARSHALL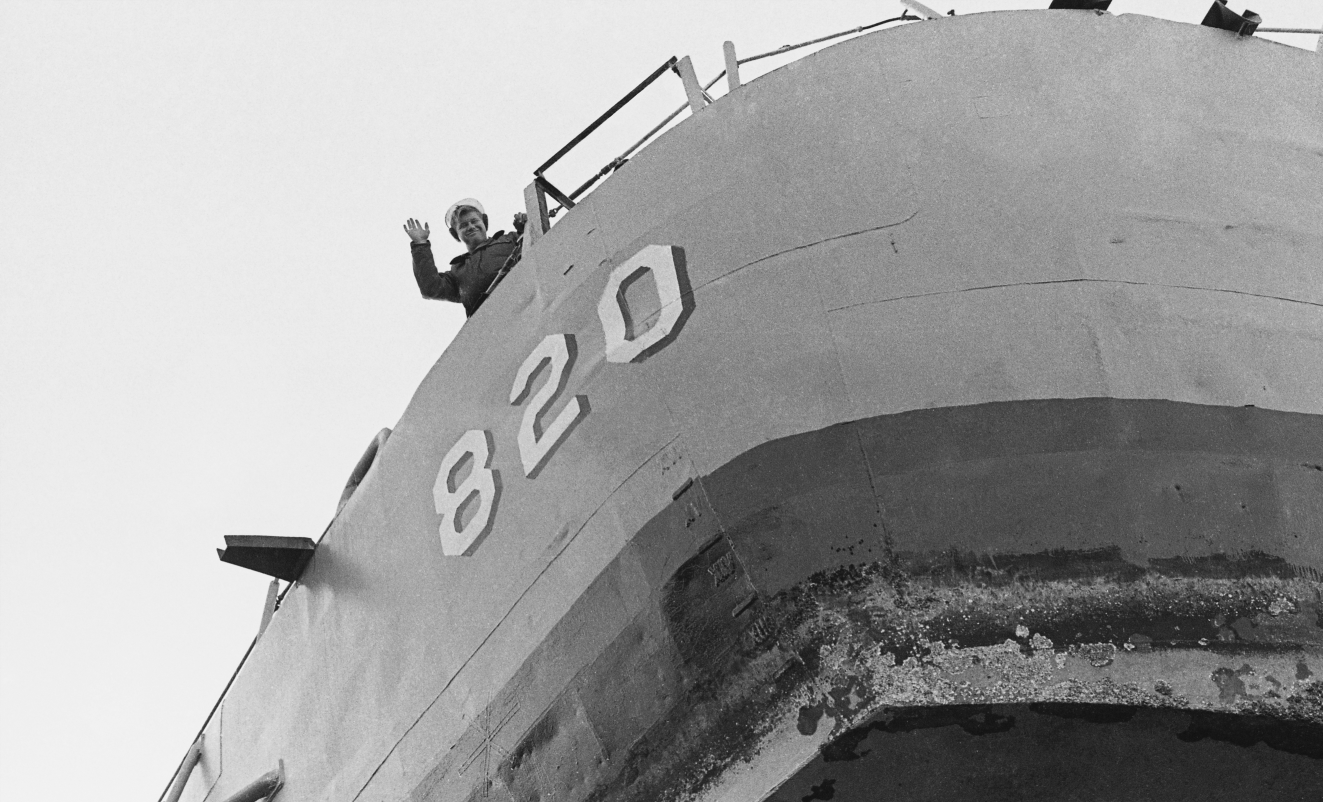 installation by 82ND airborne division, greater daytona chapter.